Albany Group delivers ground-breaking regulatory technologies to bring complete control, insight and simplicity to your insurance and financial services supply chain. Modern Insurance Magazine spoke to Stewart Griffiths, CEO, on the origins of the firm, the current challenges within the industry and his predictions for he rest of 2021 and beyond.


Tell us about Albany Group's beginnings and what first made you interested in risk and intelligence software?
I set up Albany Group in 2007 with a much-respected friend I met during our time in the military together, Adam Richards. We started out as a physical risk management company, calling on our security and intelligence expertise. Initial services included deep dive data analysis, due diligence (DD) and know your customer (KYC) reports for banks, insurance companies and private investment funds.
While every one of our clients was unique, we quickly identified that automated intelligence offered huge opportunities – not least to eliminate duplication of effort, reduce the risk of human error and embed safety, but critically for security and compliance.  It was the spark that ignited our launch into the regulatory compliance space and led us to create our ground-breaking regulatory technology, Conect™.
Tell us about your role at your firm. What do you do, and what do you find most interesting about it?
I'm Albany Group's co-founder and CEO. My remit is to drive our company growth by identifying, addressing and productising meaningful solutions for our clients. While I love to get down into the detail of our ever-evolving technology roadmap, I'm happiest demonstrating the power of Conect™ to new customers and partners. I get a real kick out of seeing them suddenly appreciate the complexity we take out of their business. Conect™ brings peace of mind by delivering complete control, insight and simplicity.
What are the technological challenges currently facing the insurance industry, and how can these be resolved?
The insurance industry currently faces a myriad of problems as it transitions towards next generation technologies. Sophisticated automation, AI and block chain technology for smart contracts all exist but making them work within often legacy IT infrastructures is time consuming. We marry best of breed innovation with existing architecture.
At its most basic level, many companies are drowning in data and cumbersome manual processes, and they don't know how to change, or what to do. The industry is now starting to move with more purpose, however, better understanding and greater adoption of regulatory technology will further accelerate both security and compliance.
We're seeing this in practice, as financial organisations recognise how something like Albany Group's Conect™ solution and its API configuration can make sense of, configure and automate workflows. Deriving value from data that was formerly only a burden or impossible to collect.
If you could go back to the start of your professional career, what piece of advice would you give to yourself?
If I'm being honest, the most powerful piece of advice would be to trust the process and network. We have been very lucky to work with some great blue-chip clients and great people within the insurance industry. Some haven't become clients for one reason or another, but we have maintained relationships with them, and they have always been on hand to help and offer advice.
Do you think your military background crosses over into your approach to insurance and technology?
Absolutely, with the most obvious crossover being the discipline we bring to every challenge. Above and beyond this, in the military a handshake isn't an empty gesture – it's a binding covenant. It's integrity that has served us well. Our partners and customers know that we will always do what we say we will do and go the extra mile (and often miles) to make that happen for them. I think it stems from the pride we take in everything we do and a deeply ingrained commitment to professionalism.
What would be your prediction for the industry in 2021 and beyond?
The clear direction of travel is more, and more extensively applied, regulation. Data technologies don't just bring benefits to businesses, they present regulators with the opportunity to increase visibility across the whole financial sector. Basically, the more that regulators are technologically able to see – the more that regulators will demand to see. In the next few years, technologies such as Conect™ will not simply aid regulatory compliance but become critical to ongoing operations.
How would you like to see the insurance industry improved next year / 5 years / by the time you retire?

My goal is to use data and fast emerging technologies to radically simplify, streamline and drive efficiencies. To me, it's a win-win, with an always fair, always compliant and always cost-effective industry that delivers high value – and highly valued – products and services to its customers.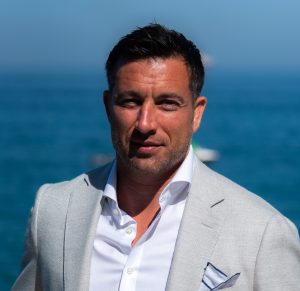 Stewart Griffiths, CEO of Albany Group