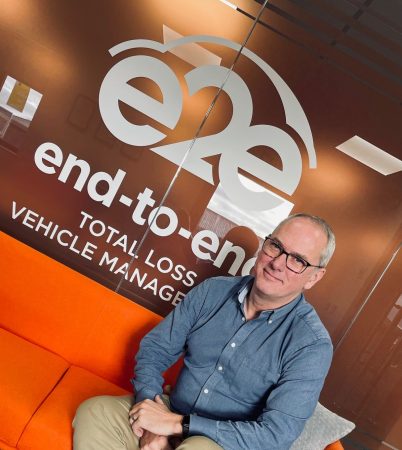 e2e Total Loss Vehicle Management [e2e], the UK's largest salvage and automotive recycling network, has appointed a new leader following Neil Joslin's decision to step down after over four successful years with the business. Jim Loughran joins the senior management team, bringing with him 30 years' experience and a strong track record in affecting business transformation and servicing customers within technology-led organisations.
Reflecting the evolving market post pandemic and anticipating future needs, e2e has embarked on a strategic commitment to harness the latest advances in technology and digitalisation to deliver service innovation to clients and network members. Jim's career has seen him accountable for successfully leading technology-based change programmes and directing business operations. He has also been responsible for architecting customer experience across a variety of industry sectors for blue chip brands including BT, Disney, ING Bank, QBE Insurance and Rolls Royce Aerospace.   The transformative work begun by the e2e management team over four years ago which saw the company rebrand, expand its proposition, redefine its collecting network, embed infrastructure and processes to set industry-leading standards and increase its client base, firmly positions the business for this next phase of its development.
Martyn Holman, non-Executive Chair at e2e comments:
The board, management team, staff and network members would like to thank Neil for his hard work and commitment over the last four years. Together with the management team, he has successfully primed the business to respond to numerous opportunities now arising in salvage and automotive recycling to the benefit of our clients and our members. We wish him well with his new ventures. It is extremely exciting to have Jim joining the team at this point in our strategic road map and there is a great fit between our ambitions for the network and his expertise. We have a number of technology-led initiatives to bring to the market in 2022 and Jim will add immense value. We are delighted to welcome him on board.
Jim Loughran said:
The salvage and automotive recycling industry is incredibly dynamic. The drive for greater supply chain and motor claims sustainability, the desire to reduce CO2 emissions and the electrification of road transport all present massive opportunity for e2e. As we rise to these challenges we will take advantage of the cost & process efficiencies afforded by new technologies in order to deliver additional benefits to our customers and members. I am really excited by what the future holds and looking forward to working with the Board and management team to build on the successes achieved to date."
Content provided by e2e
Read more article from Modern Insurance Magazine here