We love shortcuts. Time is valuable. Gas is expensive. I can avoid four stoplights and a school crossing if I take a left instead of a right turn at the place where other people turn right. They just don't know what they're missing. I am "in the know." I've timed it and it works.
In a way, this is the secret sauce of the new insurance marketing tactics that are happening. People love shortcuts. They need them desperately to help make their lives easier.  Insurers who understand the various needs of different market segments and affinity groups are uniquely qualified to create these new avenues for business.
To accomplish this successfully, insurers must think three-dimensionally. With many insurers using traditional roads, new and innovative insurers are looking at the map thinking, "We can get people from point A to point B faster, with less traffic, if we give them new routes." At the same time, they might say, "I think we can make their lives better and easier by offering a new service or product along the way." Insurers need to take customer lifestyles and business day-to-day operations and infuse their customer journeys with simplicity. Simplicity should be the high goal of product, service, and channel planning.
These are some of the issues Majesco and PIMA considered as they researched and developed their jointly-authored report, Expanding Channels for Insurance: A Spectrum from Traditional to Affinity and Embedded. The report surveyed PIMA members on their current views regarding products and channels and their future plans. The data collected exposed some areas where there is a real opportunity for channel growth and product improvement across the channel spectrum. The channel spectrum is wide, but understanding it and how it affects the market and customer behavior is the key to unlocking shortcuts for the customer and large opportunities for insurer growth. (See Figure 1.) Some of  the greatest opportunities for insurers lie in the embedded space — providing ancillary offerings that ride along with other products and services.   And at ITC 2022 it was one of the most dominant areas of discussion.
Figure 1: Distribution Channel Spectrum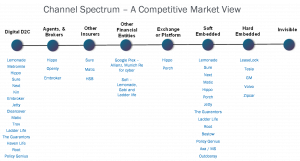 We've already discussed improving placement for P&C products, and L&AH product placement. Today, we're uncovering the other products and services that might be bundled along the way and discussing a multi-channel approach — the shortcuts that customers are wanting today.
The Case for Value-Added Services
Other Products & Services represents one of the best opportunities for growth. Value-added products are underutilised by insurers and yet still wanted by customers, both individuals and businesses. Other Products & Services were offered by the fewest number of those surveyed. (See Figure 2.) Some of these are striking and suggest opportunities for growth as well as meeting rising customer expectations. Majesco's consumer and SMB research has consistently found these value-added items have high interest. We have stated that the definition of a product has shifted beyond just the risk product to include value-added services and customer experience. Offering these extends and enhances the customer relationship to drive more loyalty and potential revenue growth.
As an example, Financial Planning is an increasingly important service as "financial well-being" expectations and needs continue to grow. In particular, it is likely underutilised by the Gen Z/Millennial generation, providing an opportunity to establish a long-term relationship. This is a formula that Sofi is using to capture customers in the GenZ/Millennial space.
Likewise, Caregiving is increasingly important and part of the "financial well-being" concept as people age, and the sandwich generation gets caught between planning for their retirement and caring for their parents. This is a vastly untouched opportunity for insurers to extend customer value, loyalty, trust, and revenue. Time-pressured pre-retirees find it difficult to manage everything from doctor's appointments to prescription schedules. How can insurers step into the gap between home-based care and full-time care to ease these burdens? Where is the shortcut that gives back time and improves care?
This goes beyond shortcuts, however, because new insurance marketing philosophies are beginning to form around the idea of better meeting group needs with group packages of insurance and services. Affinity groups, which many times offer niche/community-orientated solutions, should be the first ones to pick up on the idea of whole-experience packaging for products and services. How can partnerships be applied in this area to create platform or ecosystem-supplied marketing and distribution channels?
Figure 2: Other Products & Services offered by PIMA members surveyed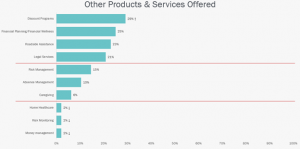 The Need for New Channel Growth
Consistent with the other two product groups (P&C and L&AH), the most used channels for value-added services are Affinity Relationships (61%), Agents & Brokers (55%), and Digital (42%). Despite this similarity, the actual levels of use vary as compared to L&AH and P&C. Overall, as shown in Figure 3, Other Products & Services are 17% to 30% lower than in L&AH and compared to P&C, 17% lower for Digital, and 11% lower for Affinity Relationships.
Other similar patterns in channel usage continue with the Other Products & Services group, including varying levels of channel variety for specific products. In general, simpler products are offered through more channels while more complex ones are offered through a smaller number of channels. As an example, one of the least-offered products, Caregiving (just 6% offer this product) has the highest channel variety. In comparison, three of the most-offered products (Discount Programs, Roadside Assistance, and Legal Services) have lower channel variety, limiting reach.
Because Other Products & Services are not a risk product, they lend themselves to alternative channels, particularly Digital, Affinity Relationships, and Embedded options. As companies seek to expand these offerings, they should consider aligning them with a broader array of channels as well as aligning them to be purchased with risk products through the channels they are sold, increasing reach, and driving growth.
Figure 3: Channels used to distribute Other Products & Services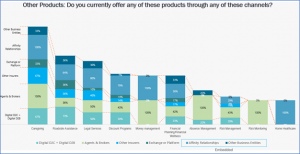 Similar to the P&C products, very few of the Other Products & Services are offered through embedded options. However, Other Products & Services are using embedded options more than P&C products with five of the six using all three options (Soft, Hard, Invisible – Figure 4) compared to only two of the 14 P&C products. Interestingly, Other Products & Services had the highest net usage of 26% for Invisible Embedded as compared to 20% for L&AH and 12% for P&C. Once again, this indicates an untapped product and channel market to drive customer engagement, loyalty, value, and revenue.
Figure 4: Embedded options used with Other Products & Services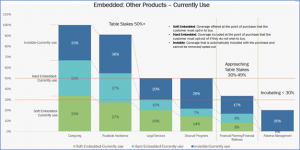 Analysing the Market Opportunities for Other Products & Services
We used three dimensions to help identify market opportunities for Other Products & Services: product offering popularity (the size of each circle), channel variety (the vertical axis), and use of embedded options (the horizontal axis) as shown in Figure 5. We uncovered three potential growth options.
1. Move off Zero
Once again, four products & services have no embedded options and have lower channel variety including Risk Management, Home Healthcare, Risk Monitoring, and Money Management. Absence Management could also be considered with its low embedded use and channel variety. Even though most of these are relatively small to moderately sized in the number of companies offering them, leveraging more of the channel spectrum, especially embedded options, could lead to growth opportunities. It also opens up opportunities for those who do not provide these products and services to expand reach, value, and revenue.
2. Reach New Markets with Popular Products by Leveraging the Channel Spectrum
Compared to the other products and services, Financial Planning/Wellness, Discount Programs, and Legal Services are offered by a larger number of companies, yet they have lower embedded use and have not leveraged the breadth of channel variety. Growth opportunities with these popular products can be accelerated by expanding to new channels, particularly embedded options.
3. Two Ways to Grow
Not surprisingly, Roadside Assistance has a high offering rate, high channel variety, and Table Stakes embedded use, given its value and inclusion for many auto products. While this could suggest a crowded market with limited growth, surprisingly only 23% of companies offer it. In Majesco's consumer and SMB research, this offering was considered to be of great interest and value, suggesting it is an unmet market need offering a growth opportunity.
In addition, even fewer companies are offering Caregiving (only 6%). Those that do are using high channel variety and embedded options. As a point of reference on market opportunity, the American Association of Retired Persons estimates that about half of all people over 65 will need some kind of long-term care, such as in-home care, an assisted living facility, or a nursing home.[i] Given the potential growing interest with the aging of Boomers and Gen X, future growth opens new market opportunities to capitalize on.
Figure 5: Market opportunities for Other Products & Services based on product popularity, channel variety and embedded usage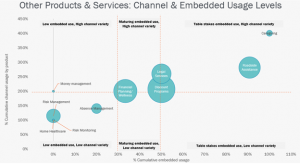 A Multi-Line Channel View
Looking at the three different products separately provided a view of market opportunities within those segments. However, many companies are multi-line, or have partnerships with others to offer products they do not create. More importantly, looking at a multi-line view provides a customer lens view given they likely buy a range of products within those three segments.
We combined the three product groups in Figure 6 to provide a multi-line view. Some interesting macro insights emerge:
L&AH commands a compelling lead over P&C both in terms of most offered products, channel variety, and embedded options used.
Other Product & Services falls behind L&AH but has some products that are ahead of or even with P&C. The one exception is Roadside Assistance, which outpaces all products in all segments.
L&AH's dominance in multi-channels and Affinity Relationships has provided a strong foundation to experiment and embrace embedded channels, putting them at an advantage overall. Building and retaining that advantage through other partnerships, including insurers, to provide a wider array of products, could create a new business model for growth that can capture a large portion of the anticipated embedded insurance market.
This view highlights the potential of new offerings that combine different products to create new customer experiences that drive growth. For example, the combination of home, caregiving, disability insurance, or long-term care insurance could provide an elderly homeowner with IoT-based home devices the ability to not only get a discount for homeowners but also the ability to provide alerts to take meds, monitor falls, reminders for doctor appointments and more – combining products to meet a broader need and providing value.
In general, there is a wide-open opportunity to expand into more channels for all product segments given the mid to low-channel variety. At the same time, some of those channels can be leveraged to accelerate further embedded options. Together this would expand the market reach for products that offer customers more options to buy when, where, and how they want to buy.
Majesco's Consumer research highlighted strong interest in bundled products that offer a broad, holistic solution to customers' health/wealth/wellbeing ,and many combinations could be created between the three product segments. Likewise, Majesco's SMB research found the same demand for a holistic, broad combination of products that meet new expectations.
Figure 6: Multi-line market opportunities based on product popularity, channel variety and embedded usage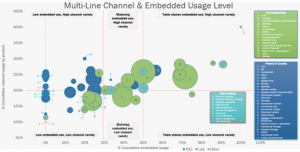 With customer expectations changing rapidly, companies need to create distribution advantages that give them a unique and competitive advantage to acquire and retain customers. This advantage is rooted in leveraging a broader array of the channel spectrum, including embedded insurance that is built into the customer experience and leverages the trust of other brands.
What actions should insurers consider?
Establish new partnerships and channels encompassing the emerging start-up fuelled distribution, embedded, and partner services landscape to extend reach before they are tied up.
Stake out your position by either commanding more of the total value proposition or becoming a specialist in someone else's ecosystem.
Refocus to a "buying" over "selling" approach – through a multi-channel strategy that meets customers where and when they want to buy.
Use a blended focus on product & business needs, value-added services and channel preferences. It is crucial to consider all of them to innovate and meet different generational needs and expectations to drive growth and engagement.
Invest in Next-Gen platforms and capabilities that embrace openness by investing in talent and technology and adopting an open, API-centric, cloud, AI/ML, microservices platform.
Insurance's New Multipliers
For insurance organizations to grow, expanding market reach with broader channels and products is a "given" necessity. The success that is found in individual products is greatly multiplied when opportunities are built around customer lives and business operations. In nearly every case, insurers need to prepare themselves and their technologies to bundle, expand, embed, partner, customize, and flex to meet the future market demands.
The attraction of the broader array of channel options, and in particular embedded options, is aligned to what customers want and expect.  They want to buy insurance when, where, and how they want — with convenience and speed. The question is…can you meet these new expectations? Do you offer your products through multiple channels? Do you have a distribution strategy that broadens your market reach? Multi-channel, multi-line, multi-service — these are the business multipliers that will take insurers from good to great.
As you and your teams brainstorm about channel and product growth opportunities, you may wish to utilize findings from Expanding Channels for Insurance: A Spectrum from Traditional to Affinity and Embedded as a springboard for conversations and planning. For additional perspectives, you may wish to view our recent webinar, Finding White Spaces in the Product/Distribution Channel Landscape.
[i] Foley, Katherine Ellen, "Here's how we can prepare for an aging population," World Economic Forum, February 3, 2020, https://www.weforum.org/agenda/2020/02/population-growth-high-demand-caregiving/