The e2e Total Loss Vehicle Management Network is made up of a diverse range of independent, innovative vehicle recycling and salvage firms, operating collaboratively and united behind market leading service standards against which they are audited. 
11 collecting members represent nationwide coverage, with a further 14 non-collecting members competing to become active in the event that additional capacity is required.  The 'Meet the e2e Network Members' blog has been developed to shine a light on the infrastructure, operational capabilities, knowledge and expertise embedded in the network and demonstrate the progressive culture inherent in its members.
Established for over 60 years, Overton Automotive Group [Overtons] was acquired by John Collins in 2021.  Supporting John is a senior management team comprising  Sarah Allan – Sales Manager, Sarah Cruise – Business and Finance Manager and Mark Boden, Business Development Manager.
Overtons is part of a wider group of companies 'Keep it Green Solutions', focused on recycling automotive parts.  Included in the group is Auto Enterprises which serves major OEM parts remanufacturers globally. Warehouse capacity in the UK exceeds 200,000 square feet with over 2,000,000 mechanical parts ready for dispatch at any one time.  The group also owns an automatic transmissions repairer business, demonstrating its overall strategic commitment to the 4 R's of automotive recycling: Re-use, Recycle, Repair and Re-manufacture.  Re-branding is underway to bring all group companies under one banner and 2023 will see the launch of 'Keep It Green Solutions' a platform to promote the environmental benefits the group delivers in terms of carbon emissions reduction.  Overtons has a diverse customer base which includes insurers, fleet management companies, Fire & Rescue Services, bodyshops and garages, the general public and a growing export market.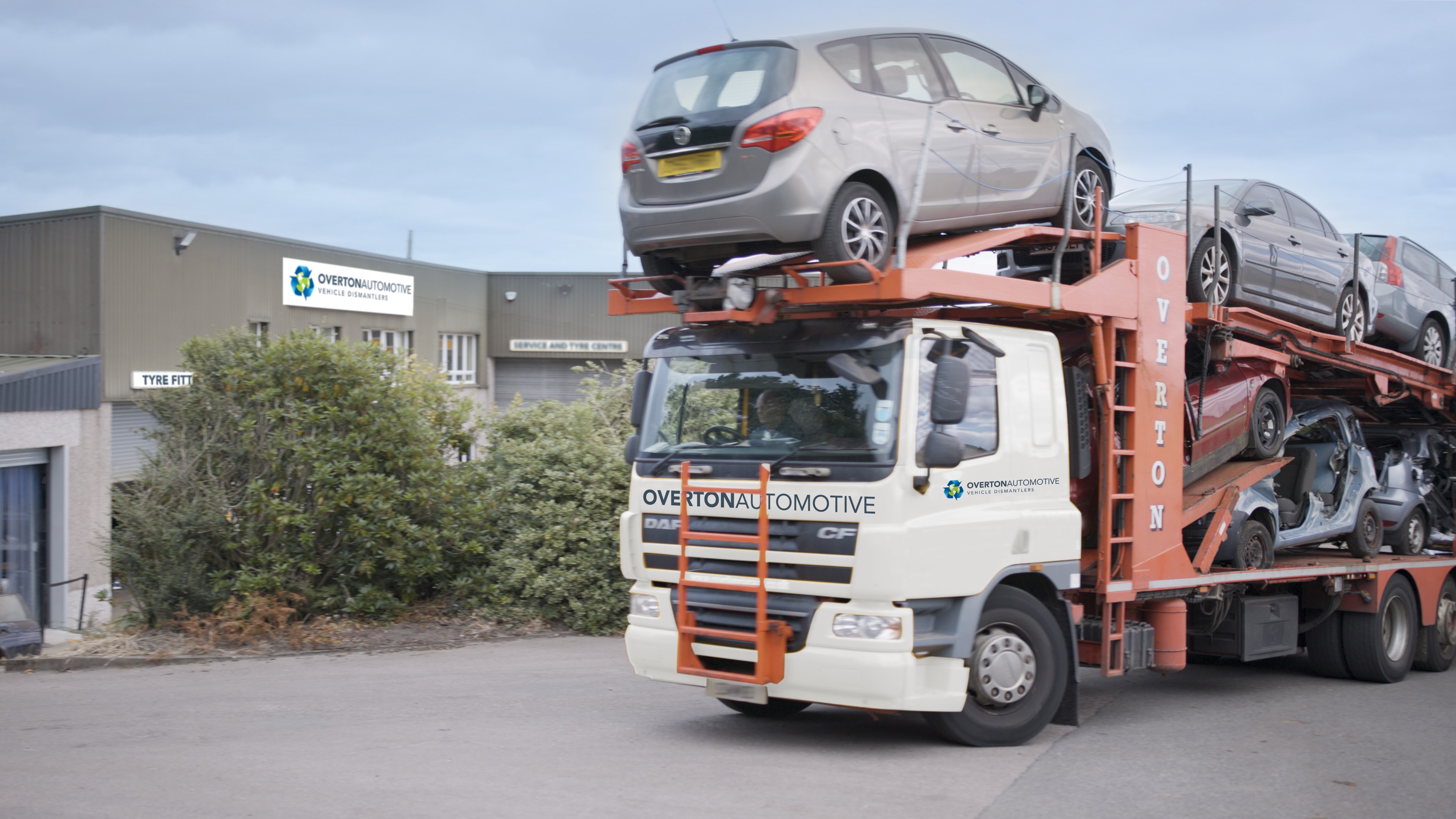 On behalf of the e2e network, Overtons services Scotland via two main sites in Aberdeen and two further satellite sites in the country, providing capacity to securely store 4,200 end-of-life vehicles and 2,500 salvage vehicles.  The company is investing heavily in its geographical foot print and has recently acquired a new site in Lincoln, alongside a recently established site in Downham, Essex, providing capacity to hold a further 2,500 vehicles; enabling the business to service the east coast of the country in its entirety.  Further site acquisitions may follow.  Overtons is VRAC certified to the UK Standard for Reclaimed Parts.  Work to secure accreditations to ISO9001, 14001 and 27001 is underway with completion expected by the end of 2023.
Overtons has a well-maintained fleet of 10 car transporters accommodating varying loads of up to eight vehicles, plus a low loader for off highway or commercial vehicles and offers vehicle collection and delivery nationally.  Four reclaimed parts delivery vans service the Aberdeen, Essex and Lincoln areas.  Tyre fitting and disposal and air-conditioning re-gassing is offered at all its sites.
The company has retained its family heritage and the culture celebrates its people and remains focussed on customer service first and foremost.  As well as investing in infrastructure and transport, training is high on the agenda helping staff to grow, develop and remain up to date with industry standards and evolving requirements such as electric and hybrid vehicles.  Training creates opportunities and career paths which support talent retention whilst close links with regional colleges aid recruitment drives.  Overtons is also active in its local communities, donating vehicles to local colleges for students to repair and raise awareness of the vehicle recycling industry as a career choice.  Vehicles are also provided to local fire services to practice their firefighting techniques.
Business operations are committed to sustainability and carbon reduction.  Waste is reduced by ensuring as many parts as possible are successfully dismantled and quality graded from each end-of-life or salvage vehicle.  Material separation is maximised for recycling purposes prior to baling vehicles.  The reclaimed parts delivery fleet includes an electric vehicle to reduce carbon emissions and alternative energy sources are used to power different aspects of company sites where feasible.
Overtons is proud to be a member of the e2e Total Loss Vehicle Management network and sees benefit in the power of the collective to secure national contracts, through the strength of the brand and the member commitment to market leading performance.  Collaboration with fellow members including shared insights and intelligence help to inform management thinking and business strategy.
Content provided by e2e Total Loss Vehicle Management.