As the UK Environment Agency warns of more extreme weather leading to increased flooding and drought,1 it is important to keep the words of our greatest naturalist, David Attenborough, front of mind: "we are the greatest problem solvers to have ever existed on earth".2
Tackling climate change will take a massive collective effort and the UK's Insurance sector will play its part3 – problem solving is, after all, in the insurance market's DNA.
The Environment Agency4 is calling for closer partnerships between government and business, as well as recommending trialling new arrangements and technologies for warning local communities about flood risks. This may involve better co-ordination between companies, national agencies and local authorities, with businesses and homeowners encouraged to take basic steps to flood-proof their own properties.
Insurance providers are already working hard to reduce the risks created by climate change, through access to a huge and growing amount of geospatial data intelligence. This includes live data on flood warnings and river flows, with the tools to predict, visualise and help mitigate financial impacts and the abject misery of physical losses.
The evolution of geospatial data visualisation tools such as LexisNexis® Map View created specifically for the insurance market means property insurance providers can now, quite literally, create a map of risk. They can choose to look at data on the characteristics of a property; its location; the crime, arson and environmental risks, including subsidence and near real-time data direct from the Environment Agency and other organisations that can provide data in real time. As well as highly predictive flood risk data from JBA, Ambiental and other respected flood modelling organisations.
This intelligence not only supports accurate pricing but when environmental data is viewed in tandem with customer policy and claim data held within an insurance providers' own databases, insurance providers can pinpoint down to individual properties, those policyholders most at risk as flood events actually occur. This means they can be far more proactive in helping alleviate loss from an environmental threat.
Using live flood data updated every 15 minutes, insurance providers can track the path of a storm and alert customers to move possessions, vehicles and themselves out of harm's way. They can understand where water might go as temporary flood barriers are erected or if a flood defence fails.  They can predict the impact of a river bursting its bank or overtopping of a seawall.
Data visualisation also helps to quickly identify which insured properties are vacant versus occupied in an environmental emergency, what roads are closed due to fallen trees and gauges where flood water will flow if a barrier fails.  All this intelligence is hugely valuable in helping to determine where on the ground resources need to be located to support customers, working with local authorities and emergency services where necessary – prior to, during and post an event.
As the Environment Agency calls for greater collaboration, insurance providers will be in a strong position to share some of the insights gained through geospatial data intelligence tools to support greater awareness of flood risk amongst local councils, businesses and residents, helping in the collective effort to mitigate those risks.
There's no denying that we are in the eye of the storm when it comes to climate change but using the growing volume of geospatial data intelligence and technology now at its fingertips, the insurance market can keep one step ahead of the weather and help communities across the U.K. build greater resilience against the effects of our changing climate.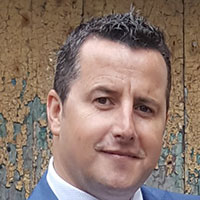 Richard Toomey | Senior Manager, Commercial Insurance | LexisNexis Risk Solutions UK and Ireland
Content provided by LexisNexis Risk Solutions UK and Ireland
Read more article from Modern Insurance Magazine here
Footnotes