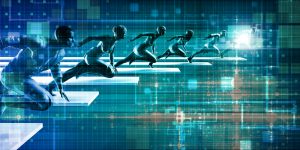 In an Insurance Post webinar, expert panelists discussed the benefits of evergreen systems – from mitigating technical debt to delivering modern customer experiences 
Nobody should face barriers to digital transformation. And as panelists at Insurance Post's webinar, Modernising Insurance – How Technical Debt is Holding the Industry Back, revealed, there is a solution: evergreen technologies.
Embracing evergreen systems – such as software as a service (SaaS) – is, the panel agreed, the path to reducing technical debt, improving innovation, and enhancing customer satisfaction.
"A seamless customer experience is insurers asking the fewest possible questions to provide the most competitive quotes," Scott Field, Senior Director of Product Marketing and Strategy at Duck Creek Technologies, said. "This is the insurance company of the future; but in order to deliver this, you can't spend your money reimplementing a data warehouse."
"We are moving from a world of monolithic systems that do everything to a components and function-based architecture," Adam Rates, Head of IT Strategy and Architecture at Allianz, pointed out. "It's about deciding which areas are going to change and how you architect them to allow you to swap components quickly."
"SaaS means you can keep refreshing," Adam Miller, Group Head of IT at Markerstudy, added. "Everything has a lifespan, but [being evergreen] allows you to move onto the next stack. This is the future."
Collaborative cultures
For some insurers, migrating to SaaS poses a challenge, with caution being fueled by a lack of understanding and even skepticism of new technologies.
"Being culturally ready for a digital transformation is the hardest hurdle to overcome," Neil Walker, Head of Architecture and Service at Covea, said. "But if you don't have the ability to respond and pivot quickly, you will miss market opportunities."
As the panel agreed, the key to understanding comes down to having the right people on board, and whereas in the past attracting new talent was a challenge, being evergreen could be the solution.
"Adopting application software gives you access to ecosystems and external innovative cultures – an attractive thing for new talent who thrive on collaboration," Parul Kaul-Green, Head of M&A and Innovation at AXA XL, explained. "Ecosystems also reduce friction during collaborations, meaning faster delivery, wider input, and more innovative thinking."
These elements are key for insurers, and as Scott Field concluded, by moving to evergreen, cloud-based software, insurers can invest their time in well-architected machine-learning solutions, helping guide customer experiences both now and in the future.
To listen to the full webinar click here.