Your kitchen has been the same color for as long as you've lived in your home and you know it's time to make a change. You don't need the full remodel; you just need some paint (or so you think). You go to the paint store. That's not so hard. You pick a color. If you have to agree with someone else on the color, it might be a little harder. You tap your debit card on a little machine. They shake the can for you. They even throw stir sticks and a can opener on top of your can. These people are so nice.
Before you head out the door, they ask offhandedly, "Do you have brushes at home?" Hmm, you think. Maybe? "Do you need rollers or a rolling pan? How about drop cloths, painting tape, edge guides, or some wall prep materials? Do you have spackle or putty? Here's a mixing paddle for your cordless drill." Suddenly, hiring a professional seems like a great idea.
Actually, stepping back for a moment, you consider the people at the paint store, not as upsell champions but as experts who really DO know all of the things that you might need for your project. It's up to you to figure out what is truly necessary, but a little of their advice may save you time and additional trips to their store.
In the same way, placing insurance products isn't about helping people purchase what they don't need. It's about educating them on what they might need and providing them with what they might need so that it's ready for them when they do need it.
Insurance is a matter of timing. Matching need with products.
Product placement is now a matter of channels and predicting when and where customers need a product.  Can insurers nail the experience by also nailing the placement and the timing? Success requires product and channel synergy, and when it works, it is amazing! It's all about the "right place, right time."
It's time for insurers to consider some largely unexplored product and channel synergies! That's what Majesco and PIMA found as a part of their jointly-authored report, Expanding Channels for Insurance: A Spectrum from Traditional to Affinity and Embedded. If your organization is looking for new avenues for growth, this is where it all begins. As you study channel options, assess which channels are currently in use, which channels and products are appealing to a new generation and increasingly digitally savvy customers and business owners, and which market opportunities are under-utilized.
For today's conversation, we're focused on P&C Products currently marketing through channels by PIMA members. (For a look at L&AH, read Revisiting L&AH Products and Placement for Today's Customers.)  For the purposes of our conversation and analysis, here's a short review of the channel spectrum we're considering.
The Channel Spectrum
Distribution options fall across a spectrum of channels, including direct to the customer, agent/broker, other insurers, marketplace exchange or platform, and embedded as depicted in Figure 1. Embedded insurance is among the newest options and expands the traditional affinity model leveraging technology and an ecosystem of partnerships. Numerous interesting examples of partnerships between insurers and other industries are popping up on this end of the spectrum, including GM, Ford, Tesla, SoFi, Petco, Airbnb, Uber, Intuit, and more.
We defined levels of embedding as:
Soft Embedded: Coverage offered at the point of purchase that the customer must opt-in to buy.
Hard Embedded: Coverage included at the point of purchase that the customer opts out of if they do not wish to buy.
Invisible Embedded: Coverage that is automatically included with the purchase and cannot be removed/opted out.

Figure 1: Distribution channel strategies for insurers
Overview of P&C Products offered
Before we looked at channels in depth, we wanted to understand which products were being offered by our survey group. P&C products were offered by fewer respondents, so we aligned categories to represent use within the P&C segment (see Figure 2). The four categories we used to describe product adoption zones were:
Dominate
Growth
Niche
Incubate
Dominate describes popular offerings. Growth would be product areas of increased interest. Niche and Incubate describe under-utilized products that may represent "blue ocean" opportunities.
The two most popular products, well within the Dominate segment, are Auto and Pet. They each have a 42% penetration.
Not surprisingly, many of the P&C products in the Dominate segment are individual products, while the Growth and Niche segments are dominated by commercial or specialized personal products such as umbrella, boatowners, and recreational vehicles.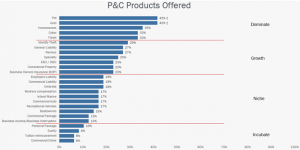 Figure 2: P&C products offered by PIMA members surveyed
Overview of Channel use
P&C and L&AH channel usage follow similar patterns and varying levels of channel variety, with P&C at lower levels but with a tighter range of differences. For P&C, simpler products are offered through more channels, while more complex ones are offered through a smaller variety of channels.
Unsurprisingly across all products, Affinity Relationships or Agents & Brokers are the most used channels, with the latter having a 16 to 9 edge in the highest use (see Figure 3). Digital ranges between second, third, and fourth with each product, never achieving the top spot.
Unlike the L&AH segment, which has operated in a multi-channel world for decades, the P&C segment remains heavily dominated by the Agent & Broker channel. The Digital channel's growth has been dominated by large, direct insurers. Marketplaces and exchanges have emerged as growing options over the last five to seven years with options like Bold Penquin, Bolttech, and others.
Agents & Brokers and Affinity Relationships dominate some of the more specialized products like cyber, specialty, commercial package, commercial auto, EO/DO, and others, reflecting the need to understand and position these products appropriately at the right time.
In another similarity to the L&AH channels, Personal Package led all other products in the variety of channels used, even though this product is in the Incubate zone, and only offered by 10% of companies.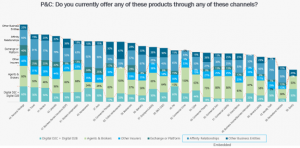 Figure 3: Channels used to distribute P&C products
While P&C has been at the forefront of digital transformation, outpacing L&AH over the last decade, they are not outpacing in terms of channel breadth and use.   This puts P&C well behind L&AH in using embedded options…not a good thing given the high interest! Twelve of the 26 (46%) P&C products had no reported embedded usage.
Only one of the remaining 14 products, Travel, made it to the Table Stakes segment of 50%+ usage (see Figure 4). Embedded travel insurance has been around for some time, which is why it has gravitated to Invisible Embedded, and represents the largest usage of invisible embedding for any product. Specialty and Tuition Reimbursement are in the Approaching Table Stakes segment. Interestingly, Tuition Reimbursement is only offered by respondents through hard embedding.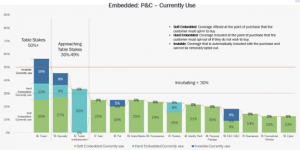 Figure 4: Embedded options used with P&C products
With only one product at Table Stakes, this highlights a major gap and opportunity for P&C products to reach more customers through embedded insurance.
There are a wide array of opportunities in P&C when comparing channel usage relative to consumer and SMB customer interest. There is already a strong alignment between Gen Z & Millennials in Affinity Relationships. In particular, the most significant opportunities include Digital (33%+); Agents & Brokers (32%); Other Business Entities (42%); Soft Embedded (41%); Hard Embedded (71%); and Invisible Embedded (74%).
With new InsurTech startups and innovative incumbents actively leveraging these channels, those who do not are increasingly at risk of being left behind and unable to establish partnerships because they will already be secured.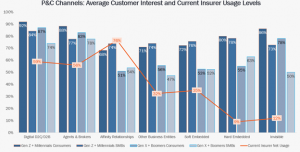 Figure 5: Customer channel preferences for P&C products compared to company channel usage
Travel insurance: a practical case in point
Since travel insurance offers us a case of channel success, let's imagine for a moment that all P&C insurance types are "aiming for" the experience of embedded travel insurance. What can we learn about people and insurance from the ways travel insurance is needed and marketed?
Let's consider Airbnb — I'm a big fan and use them for our personal travel.   But this year when booking I noticed something different … travel insurance that I could buy.
Earlier this year, Airbnb rolled out guest travel insurance in the US, UK, and 8 EU countries – different than their Aircover for guests program which is free.  They worked on this initiative for 2 years which is a paid travel insurance product that people can buy while completing their Airbnb booking.  The offering is backed by major insurers like Generali and Aon to name a few. [i]
Travel companies and their insurance partners aim for the point of need — while customers are booking travel.
So, insurers can begin by seeking channels close to "life and business preparation" tasks. Where do you go before you remodel a room? What do you need before your wedding? Whether you are buying birthday balloons or an office printer, you are preparing for some stage of life or business. How can insurers expand their reach to meet customers at that point of life and business?
What options do insurers have to close the gap? We have identified three market opportunities based on channel and embedded usage dimensions represented in Figure 6. The dimensions within this graphic represent product offering popularity (the size of each circle), channel variety (the vertical axis), and use of embedded options (the horizontal axis).
Move off Zero
Based on survey respondents, Commercial Property, Commercial Crime, Commercial Auto, Commercial Liability, Business Income/Interruption, General Liability, and Surety have no instances of embedded options (see Figure 6). They have low channel variety. Five additional products have no embedded usage but have high channel variety: Umbrella, BOP, Workers Comp, Commercial Package, and Employers Liability. Companies could grow and gain share by leveraging more of the channel spectrum, and in particular, the embedded options within the spectrum.
Reach New Markets with Popular Products by Leveraging the Channel Spectrum
Cyber, Pet, Identity Theft, and E&O/D&O, in the lower middle of Figure 6, are offered by a larger number of companies but have very low levels of channel variety and embedded use. Likewise, just above them are Renters, Homeowners, and Auto which are also popular products but with low embedded use and higher channel variety. These popular products are constrained by their few channels and limited embedded use, restricting growth opportunities. Many of these products are already being offered via embedded options by companies through partnerships with other entities like Microsoft, Petco, Paypal, and others.
Keep the Crowded Spaces in View
Travel insurance has always been a game of partnerships and placement, though it was traditionally offered by travel agents. We might consider it a crowded space that is still viable now that more of the channel spectrum is available. Insurers can still expand product placement into lifestyle channels like the workplace, affinity groups, uncharted platforms such as online gaming, and other metaverse locations. There's no end to product/channel synergy when we consider the full spectrum.
Even Travel insurance has room to grow. Only 33% of companies are offering this product and there are plenty of opportunities to embed Travel beyond the traditional channels. Post-COVID travel is on the rise with no signs of slowing down.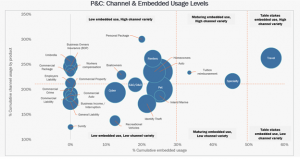 Figure 6: Market opportunities for P&C products based on product popularity, channel variety, and embedded usage
Final Thought: Use Predictive Analytics to Predict Effective Channels
If you've visited the dentist on three consecutive Mondays for some dental work, Siri or Alexa is likely to speak up this morning. "Are you headed to the dentist? I-75 has light traffic. Do you want to hear the weather?" Technology is enabling a broader understanding of our habits.
Think about if insurers used this technology. "You've visited three different RV dealers. Would you like us to run some numbers on a new motorhome policy?" The quicker that insurers figure out how to anticipate needs and create product/channel synergy, the more likely they are to achieve industry-leading competitive growth.
Insurers were in the prediction business well before an iPhone could read your e-mail. Predictive data has been used for decades in channels as old as mail-order. Insurers just need to remember who they are — risk-mitigators, using everything at their disposal to gather those at risk into a group they can protect. Today's data and analytics can help insurers compete by placing them in the right place, at the right time, thousands or millions of times each day. Insurance is about timing. Are your products ready to meet your customers' needs right when they need you?
For a closer look at the channel spectrum and the possibilities to be found in embedded products, be sure to read Majesco and PIMA's joint report, Expanding Channels for Insurance: A Spectrum from Traditional to Affinity and Embedded.
[i] Airbnb Travel Insurance for Guests: Cost, details, limitations, differences with Aircover | Rental Scale-Up (rentalscaleup.com)