Two more of The Vella Group's Multi-Skill Apprentices have now successfully completed their end point assessments and have officially graduated their apprenticeship.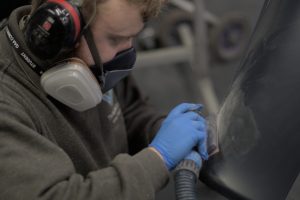 Harry Owens and Ryan Lowrey, apprentices at their Skelmersdale and Workington sites respectively, have successfully passed their End Point Assessments – a series of tasks which they are scored on to test the knowledge they've learnt during their apprenticeships.
Both of the apprentices joined the Vella team in 2019, as part of the first generation of Vella Multi-Skill Apprentices, meaning they learn all aspects of accident repair including MET, Panel, and Paint. They've both been highly successful in their careers, with Ryan winning Gold in the Automotive Refinishing category at this year's WorldSkills UK and Harry being announced as a finalist in the Apprentice Panel Technician of the Year category at the Bodyshop Awards, due to take place in April.
Allan Wareing, In-house Technical Trainer, said,
Harry and Ryan have both been exceptionally hard workers and have worked well with me and their mentors throughout their apprenticeships. I have no doubt that they will both go on to become talented accident repair technicians and we are very grateful to have them on our team.
Harry and Ryan join Catherine Short and Josh Topping, who became the first multi-skill apprentices to pass their end point assessments at the Group back in December.
The Vella Group employs over 35 apprentices, making up nearly 15% of their workforce and are continually working to tackle the skill shortage in the industry through their own challenging apprenticeship programmes.
To find out more about their apprenticeship programme, visit their website here: www.thevellagroup.co.uk/careers/apprenticeships.
Read more article from Modern Insurance Magazine here